Cleaning in East Brunswick, New Jersey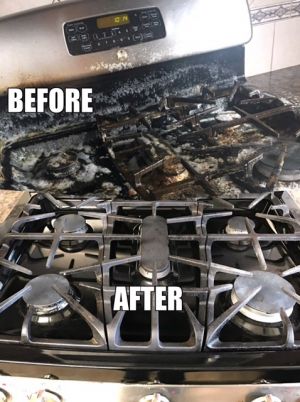 Patricia Cleaning Service has been offering cleaning services for the past 5 years. We have a terrific, friendly staff who provide fantastic, satisfactory services. Our customers know they can always rely on us to get the job done, exceptionally. Have Patricia Cleaning Service provide you with the best cleaning services in East Brunswick New Jersey.
Dreading that next cleaning?
Well, no need to add stress to your already stressful schedule. Remove that "one more thing to do" from your list and have Patricia Cleaning Service of East Brunswick provide you with superior cleaning services. Our professional, reliable crew will leave you with a clean, disinfected, healthy environment you deserve. With 5 years of experience, your mind will be at ease when you leave your cleaning needs in the hands of Patricia Cleaning Service.
---
Call for FREE Cleaning Quote
---
WHAT CUSTOMERS ARE SAYING:
5★★★★★ - "Patricia and her crew are very professional and courteous. Great results. Reasonable price for excellent cleaning services."

Anonymous, Cleaning

2018-03-19

5★★★★★ - "Patricia Cleaning Service is outstanding. I needed to have my large apartment cleaned and it was quite interesting shopping for the right cleaning service. I came upon some of the other cleaning companies who were quite "corporate." I had quite a bad experience with Maid Pro of which I will not go into and the others were not too pleasant either (I really dislike the centralized corporate structure we live in today). It is not like the good old days when things were simple and better on every level.
When I discovered Patricia, I found a very nice professional and an organization that was "down to earth" who gave me more of a Mom and Pop feel. Everything was simple in terms of the organization for my cleaning services; she had flexibility in her schedule as to when she could come to my home to do both a preliminary inspection of the premises and the actual cleaning day.
Patricia and her daughter did a magnificent cleaning job on my apartment and it looks wonderful as a result of their great work; and they were very nice, courteous and quite accommodating. The price of their services was perfectly decent. I could not be more pleased with the service and I will definitely use Patricia Cleaning Service again for my cleaning needs."

Anonymous in Parsippany Troy Hills, NJ

2019-08-05

5★★★★★ - "I cannot thank her enough. She was reasonably priced. Her schedule for me worked so well if you have to work a lot this is perfect. I'm really pleased with the job because she cleaned and sanitized. I had a dead bird die in my place and since then I felt I couldn't clean it enough and now I feel so much better knowing it's been dusted cleaned and sanitized. Also, it smells great!! Plus she was super nice and sweet but straight forward with me which I prefer. I also prefer her because she was friendly. I had some nasty attitudes with Molly Maid Services and Merry Maid Services big time. I would recommend her and I felt I could trust her and it shows she is trustworthy. She found something expensive I was missing and that's how I know her company can be totally trusted to come in do the job and go home."

Jessica S. in Boonton, NJ

2019-05-08

5★★★★★ - "Paty and team were on time, sweet and did an excellent job on our house. We did a move-in cleaning and every corner was spotless when we did our walk through after."

Christina in Mountain Lakes, NJ

2018-04-09

4★★★★☆ - "Patricia & her daughter do a very thorough job in my home every week. They are polite, flexible & easy to work with. Anything you ask them to do, they do not hesitate to accommodate my cleaning requests. I would HIGHLY recommend them to clean your home."

Tara in Chester, NJ

2018-04-02

5★★★★★ - "Very professional and courteous. Professional results. Great value for the money."

John in Mount Arlington, NJ

2018-03-19

5★★★★★ - "Patricia and her team do a wonderful job, are reliable and pet friendly."

Sheila in Stockholm, NJ

2018-03-19

5★★★★★ - "We love having Patricia and her crew come by! Not only are they professional, but they do a wonderful job and are quick and convenient."

Kristin in Boonton, NJ

2018-03-19

5★★★★★ - "Patricia's attention to detail and ability to respond to her customers' needs are why she has the best cleaning service in Morris County. I highly recommend her service to anyone looking for a cleaner home."

Rob in Morristown, NJ

2018-03-12

5★★★★★ - "Patricia and her staff have been cleaning my home for over a year. They are reliable and do a great job. I would absolutely recommend their services."

Stephanie in Martinsville, NJ

2018-01-10
---
Call for FREE Cleaning Quote
---